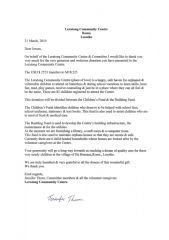 Please be informed, that I forwarded your donation of 2,573 USD to the Commitee of the Leratong Community Centre. Please read the confirmation letter and the Commitee decision on how this amount will be used for. Later,
I was informed, that they also decided to use a certain part of this amount to have a new, stone house built to Tebello and Thato, as their old house was seriously damaged during the last winter and due to the heavy rains during the spring. It is dangereus and does not possible to repair.
The approval procedure of the new house project has been started during my stay, submitting the required documents to the Magistrate. As soon as they have the approval in hand, they will start to set up the new house, that must be finished before the winter. The life quality of these two orphan girls will be improved significantly. This is really much more, that I ever hoped. I will publish photos on the new house, as soon as it is ready and I receive it. Thank you again for all of you who sent donation helping the orphan children in the village of Ha Baseane, Roma, Lesotho.