YJ0HA Vanuatu 2010
YJ0HA
Vanuatu,
Efate Island, OC-035

01 November 2010 - 15 November 2010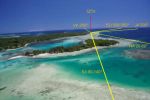 Operators: HA5UK, George, and HA5AO, Pista.
The station(s) will be set up in the Nirvana Resort, Paradise Cove, Efate Island, Vanuatu.
The callsign: YJ0HA.
Operation is planned on the 160-10 m bands, using CW, SSB, RTTY, PSK, SSTV modes. More details, like station setup, antennas, etc. will be announced in due time. Logsearch will be available here. QSL via HA5AO and LotW. Click here for detailed QSLnformation.
Operation from OC-111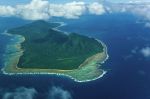 During our stay in Vanuatu we are planning operation from Emae Island, OC-111, Shepherd Islands group, as well. Only a one-day operation can be expected. We will do our best to organize this trip, but it highly depends on the local circumstances and possibilities, as well as, the weather conditions. We will keep you informed.
HF Terrain Assessment
George, HA5UK has made the HFTA calculation for our QTH at the Nirvana Resort, Port Villa, Vanuatu. There is no vertical option available in the HFTA software, so the calculation based on dipole antenna at 10 meters up, as compromise.
YJ0HA station set-up
Transceiver: 2 x Icom IC-7000
PA: Tokyo Hy-Power HL-1.1KFX, 600 W PEP
Antenna 10-20 m bands: Wire vertical on 12 meters high Spider pole,
Antenna 160-30 m bands: Inverted U, (similar, that was used by the VK9GMW and TX3A team) RX: Beverage
News from Vanuatu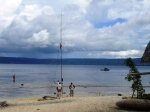 We arrived to Vanuatu on Monday late afternoon, early evening. We started to set up the station in Thuesday morning. It took couple of hours to set up the station and test everything, but when we finished it, there was mains blackout for a couple hours. We are running one station with 400 watts
The antennas are set up on 12 meter high spider pole in the salt water. The good news is that we have exeded 5000 QSO in the first 4 days. The pile up is huge on all the bands, as you also can hear.
News from Vanuatu 2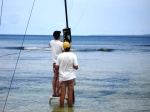 Yesterday we had to fix the antenna coupler. It was not possible to tune the antenna on the 80 m band. We checked the coupler and we could see that the screw on the 16/81 m antenna port got loose and the relay demaged. We checked the coupler and we could see that the screw on the 160/80 m antenna port got loose and the relay was damaged and had to be replaced.
Fortunately we had replacement one. We had to remove the coupler from the pole, replace the relay, than back to the pole. It took more than three hours to getting back to the bands.
News from Vanuatu 3.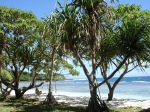 When we fixed the antenna coupler we could tune the antenna for 80 meters, as well, without any trouble. The faulty rellay caused significant delay working on 80 meters. Yesterday morning it was working well. George could log several stations from EU. Most of them were week, but there were several big guns. The strongest station was HA7UG, his signal was like a cannon fire.
We are exceeded 8 kQSO. Very hard to work on 20 meters with Europe..Huge massive pile-up, for hours every evening.
YJ0HA QRT
YJ0HA QRT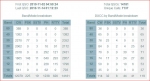 Please be informed, that we went QRT after 12 days of operation on 14 November 2010 at 01:12 UTC (12:12 local time). We made 14 181 QSOs, excluding dupes, from 119 DXCC entities. You can see more detailed statistical figures on the log search page. The complete log are on-line and it has also been uploaded to the LotW.
YJ0HA signal recording
YJ0HA 2010 11 11 on 30 m
YJ0HA, Vanuatu, útibeszámoló
Rádióval a Föld túlsó oldalán - két hét az álomszigeten
YJ0HA – Vanuatu, 2010 november 1-14, (HA5AO, HA5UK)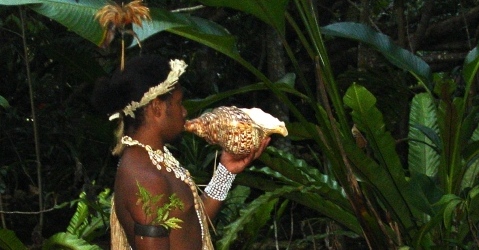 A közös rádiós expedíció gondolatát 5AO vetette fel, a helyszínt illetően régi vágyam, a Dél-Csendes-óceán lett megcélozva. A konkrét sziget kiválasztása nem volt egyszerű, mivel több szempontnak kellett megfelelnie: Úgy döntöttünk, hogy családi vakációval ötvözzük a rádiózást, tehát megfelelő komfortra volt szükség,- Emellett kerülni akartuk a zsúfolt (ha nem is európai mércével zsúfolt) turista paradicsomokat mint Fiji vagy American Samoa.
SR/SS at Budapest
| | |
| --- | --- |
| Sunrise: | 06:13 UTC |
| Sunset: | 15:39 UTC |