Lesotho, 7P8AO, 2010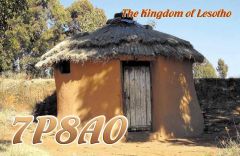 7P8AO signal recording
7P8AO CW QSO with HA5HRK and F5VU on 28 MHz 14 March 2010 14:13 UTC (tnx Tomi, HA5HRK)
If you have recordings of 7P8AO or T88CI signal, please let me know. I would be very pleased and appreciate very much to receive a copy.

Missing 7P8AO QSOs due to possible PIRATE station
Some station reported that they could not find the 7P8AO 40 m QSOs on the logseach, made on 11 March between 19:25 and 19:50 UTC. Please be informed, that I went QRT at 19:20 UTC on 11 March and the next operation periode was started 02:41 UTC on 12 March. The 7P8AO QSOs you may have in your log after 19:20 UTC on 11 March and before 02:41 UTC 12 March 2010 on any bands, were with pirate station.
Same situation between:
18:40 UTC 17 March - 03:55 UTC 18 March on 20 m,
09:05 UTC - 10:44 UTC 18 March on 15 m.
Please check the on-line log prior to sending direct QSL request! If you do not find your QSO, contact me for clarification!
73, Pista, 7P8AO
The latest news from Lesotho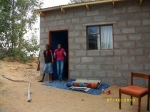 I have just received photos on the new house was built for the two orphane girls, Tibello and Thato, with the help of the HAM radio operators and other helpful people who sent donation in the last year. The house has also been officially registered in the names of the girls as owners. You remember, I announced the donation campaign in August 2009 after my first visit to and my first operation from Lesotho. Last March I gave the donated 2,573 USD to the Commitee of Leratong Community Centre, Roma, Lesotho. The Commitee decided to have a new house built to the two orphane girls.