Vanuatu, YJ0HA, 2010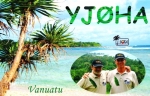 YJ0HA station set-up
Transceiver: 2 x Icom IC-7000
PA: Tokyo Hy-Power HL-1.1KFX, 600 W PEP
Antenna 10-20 m bands: Wire vertical on 12 meters high Spider pole,
Antenna 160-30 m bands: Inverted U, (similar, that was used by the VK9GMW and TX3A team) RX: Beverage
Antenna coupler: SGC SG-235 automatic coupler
Interface: microKEYER II
Antennas will be set up in the salt water.
TNX for the valuable technical advices and as well as for the many trick and tips to HA7RY, Tomi and AA7JV, George, the crew of the memorable VK9GMW and the unforgettable TX3A expeditions.
Operation from OC-111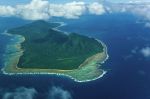 During our stay in Vanuatu we are planning operation from Emae Island, OC-111, Shepherd Islands group, as well. Only a one-day operation can be expected. We will do our best to organize this trip, but it highly depends on the local circumstances and possibilities, as well as, the weather conditions. We will keep you informed.
HF Terrain Assessment
George, HA5UK has made the HFTA calculation for our QTH at the Nirvana Resort, Port Villa, Vanuatu. There is no vertical option available in the HFTA software, so the calculation based on dipole antenna at 10 meters up, as compromise. We will use verticals in salt water, so we expect even better results to these main directions.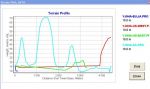 HA DXpedition to the South Pacific
YJ0HA
Vanuatu,
Efate Island, OC-035

01 November 2010 - 15 November 2010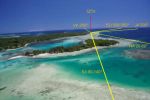 Operators: HA5UK, George, and HA5AO, Pista.
The station(s) will be set up in the Nirvana Resort, Paradise Cove, Efate Island, Vanuatu.
The callsign: YJ0HA.