Lesotho, 7P8AO, 2010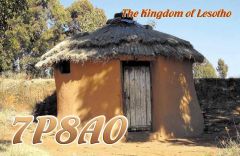 7P8AO Lesotho, single op, mini DXpedition, 2010
Details

Published:

14 February 2010
7P8AO Lesotho, SO mini DXpedition
08 March 2010 - 22 March 2010
I will once again be back to the Kingdom of Lesotho, between 08 March and 22 March 2010. I will set up my station in the Trading Post Lodge, Roma near Maseru.
Report From Lesotho
Details

Published:

12 March 2010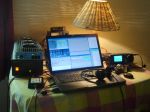 I have arrived to the International airport of Maseru with one hour delay, at noon, 08 March, Monday. After the immigration procedure, the customs clearance of the technical stuff was smooth. The copy of my licence helped lots to pass through the customs without any difficulties. I picked up the car I hired, than I was driving to the Lesotho Communications Authority in Maseru to pick up the original licence. The car was fully loaded with my luggages, but fortunately the security guys kindly allowed me to drive in to the car park of the Ministry. A little bit after 2 pm the licence was in my hand.
Report from Lesotho, 2
Details

Published:

17 March 2010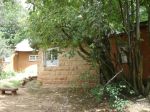 I could not fix the power amplifier, so I am running with 100 watts only. During the daytime the bands are closed and the noise level is very high. Early in the morning 40 m is more or less o.k. Mainly the NA station can hear me. There is no chance to get over on 80 meter with 100 watts. The last two days I used the vertical for 40 and 30 meters also, as it seems that you can hear me better with this antenna. However the inverted L is slightly better for reception.
7P8AO QRT
Details

Published:

23 March 2010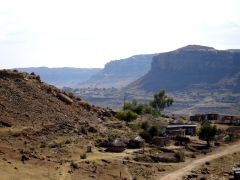 The Internet access is limited in Lesotho, so I can just inform you, that I went QRT on 22 March, 02:50 UTC. There are 4,097 QSO in the log from 94 DXCC entities. The log is uploaded to the LotW and for search into the database. I will upload the log to the eQSL system, as well, as soon as I get home. Thank you for the contacts and sorry for the low signal level.
Closing the Donation Campaign, 2.
Details

Published:

27 March 2010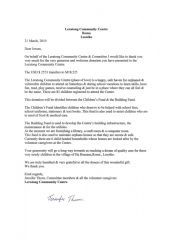 Please be informed, that I forwarded your donation of 2,573 USD to the Commitee of the Leratong Community Centre. Please read the confirmation letter and the Commitee decision on how this amount will be used for. Later, I was informed, that they also decided to use a certain part of this amount to have a new, stone house built to Tebello and Thato, as their old house was seriously damaged during the last winter and due to the heavy rains during the spring. It is dangereus and does not possible to repair.